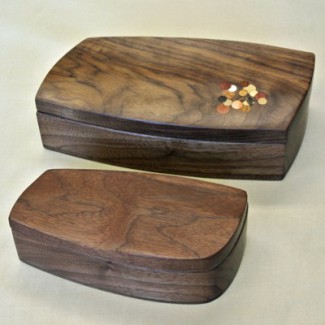 Band Saw Box
Saturday 9 am – 4 pm
Price: $150.00
Prerequisite: None
September 16, 2023(Postponed)
Each student will learn the basics of box making using the Band Saw. Basic ripping and cross cutting will be learned along with cutting inside and outside curves. Each box will be sanded and finished with two coats of tung oil. The boxes will be lined with a brown flock material.
Using solid Walnut as the main wood, each student will complete two original, one of a kind boxes. One large box, approximately 4″× 8″ and one small box made from the inside of the larger box. (These boxes sell for $40.00- $50.00 each.)
One of the boxes will have custom made dowel plugs, made from exotic, local or reclaimed lumber artistically arranged in its surface. Each student will cut their own dowel plugs. In order to create the pattern shown in the photo, there will be approximately 4-8 different woods used.
Principles of Art and Design (size, scale, color, contrast, proportion etc.) will be discussed and demonstrated.
If time permits, additional techniques will be demonstrated, such as, cutting squares and strips, checkerboard patterns etc.
Each student will receive a detailed instruction sheet along with patterns.
Materials included.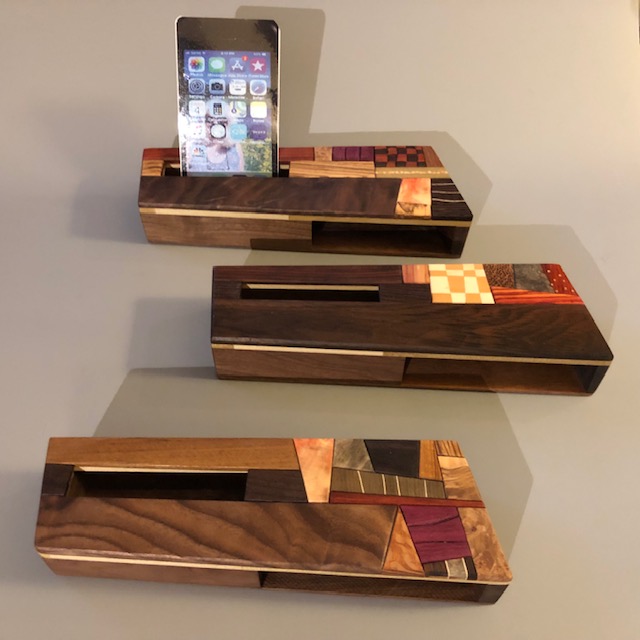 Smart Phone Speaker Box
Saturday 9 am – 4 pm, | Price: $150.00 | Prerequisite: none
TBD 2023
Each student will make one box similar to the ones shown in the photo (approx. 4″ x 10″ x 2″). The box is made from solid Walnut. The detail work is a combination of domestic, exotic and reclaimed woods. Students will use tung oil to finish their project. Materials included.
New! Small Treasure Box
Saturday 9 am – 4 pm, | Price: $150.00 | Prerequisite: none
TBD, 2023
Each student will complete a small one of a kind box approximately 3" x 5" x 2" high. The top will be made from exotic woods, and domestic woods. The box will have a small tray inside used for small objects. The bottom of the box will have aromatic cedar and the box will be finished with tung oil. The terms "lots of dots" and "glue to ooze" will be
used to illustrate the importance of the amount of glue required for various joints. It is important not to use too much glue on the top. This will cause the finish to be affected.
All work will be done on a band saw and a disk/belt sander.