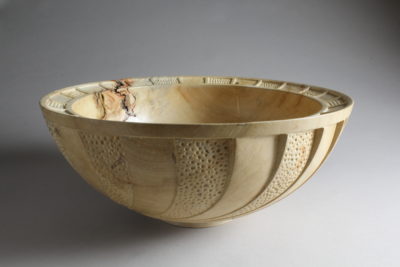 February 9 and 16, 2020
9 am – 4 pm
Make a Simple Turning Stand Out
Goal: Students will learn how to use different burning, texturing, carving and coloring techniques in order to give a simple turning higher visual appeal.
In this class you will learn:
To visualize a project in order to plan ahead.
The advantages of using alternative methods for mounting wood on the lathe.
Pros and cons of using power or hand tools
To use and sharpen hand carving gouges
To use rotary tools to easily apply texture
To identify grain direction in order to achieve optimal cuts
To layout pleasing lines for embellishing.
To use color to highlight carved or textured areas
Summary
At the end teacher and students will discus and critique the pieces made during this class.