Length: Ongoing
Price: $10.00/hour
Prerequisite: CSW 103
Saturdays 9 am – 4 pm
Here is what you have been waiting for…where all those skills you have been practicing pay off. Advanced Projects gives you the chance to continue learning the art of woodworking without having to invest in your own studio.
Shop Time provides our advanced students with open access to the CSW workshop on Saturdays and select other hours. Included in Shop Time is the use of all CSW tools and equipment as well as any assistance and direction you may need from our staff.
Advanced Projects allows you to continue woodworking at your own pace, with high quality machines and a friendly work environment at your disposal.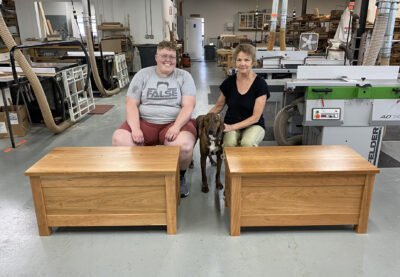 *Attention open shop people* If you have abandoned wood or incomplete projects collecting dust on the storage shelves, you need to rescue it before we do end of the year clean up or it goes in the dumpster. You have been warned.