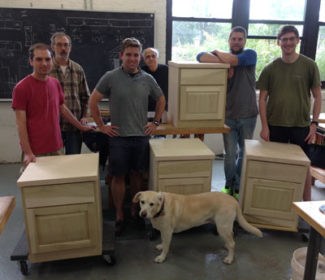 Length: 9 Weeks
Price: $475.00
Prerequisite: None
The first 5 weeks of Introduction to Cabinet Making takes the student through the steps of designing and making a basic cabinet from plywood. The student will complete a small bedside table or entertainment stand using the same techniques that would be used to build kitchen face-frame cabinets or bathroom vanities. This cabinet will have finished shelves for storage. In weeks 6 and 7 students will learn to construct and install a drawer. Weeks 8 and 9 will cover cabinet door construction and installation.
Students will determine their material requirements during week 1 and be required to have them on hand by week 2. Estimated material cost for a maple cabinet is $115.00
Topics will include:
Design
Box Construction
Developing a Cut-List
Use of the table saw, router table and, miter saw
Pocket Hole Joinery
Dado and Rabbet Joinery
The Winter Cabinet class is postponed. The instructor is in the at risk category for Covid. We will monitor the situation and resume class when it is safe. We are not accepting new registration at this time.
Sundays, 9:00-11:30 am, Jan 3 – Feb 28, 2021 or,
Mondays, 9:00-11:30 am, Jan 4 – March 1, 2021.