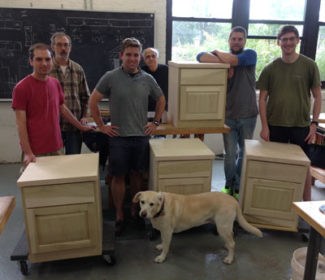 Length: 9 Weeks
Price: $485.00
Prerequisite: None
The first 5 weeks of Introduction to Cabinet Making takes the student through the steps of designing and making a basic cabinet from plywood. The student will complete a small bedside table or entertainment stand using the same techniques that would be used to build kitchen face-frame cabinets or bathroom vanities. This cabinet will have finished shelves for storage. In weeks 6 and 7 students will learn to construct and install a drawer. Weeks 8 and 9 will cover cabinet door construction and installation.
Students will determine their material requirements during week 1 and be required to have them on hand by week 2. Estimated material cost for a maple cabinet is $115.00
Topics will include:
Design
Box Construction
Developing a Cut-List
Use of the table saw, router table and, miter saw
Pocket Hole Joinery
Dado and Rabbet Joinery
Registration for the Cabinet class is open.
Sundays, 9:00-11:30 am, June 26 – August 28, or,
Mondays, 9:00-11:30 am, June 27 – August 29.